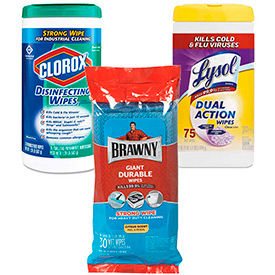 Sanitizing & Disinfecting Wipes
Sanitizing and Disinfecting Wipes Eliminate the Need For Buckets and Rags.

Sanitizing and disinfecting wipes provide quick and effective removal of pathogens from surfaces.1


Wipes come in variety of scents to promote a sanitary environment in offices, reception areas and food service facilities.
Canisters can be placed in common areas and moved around to where is needed most.
Several styles available with detergent properties and textured surfaces that aid in one-step cleaning and sanitizing/disinfection.
Please read product label and SDS for complete kill claim list and directions.