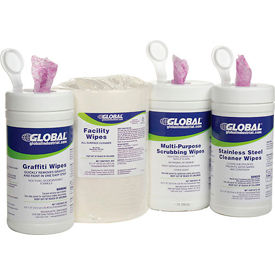 Global Industrial™ Cleaning Wipes
Global Industrial™ Cleaning Wipes Are Premoistened with Powerful Formulas for Multiple Surface Cleaning Applications.

These cleaning wipes are ideal for use in offices, warehouses, hospitals, schools/universities, food service, manufacturing facilities and more. Graffiti Wipes effectively removes paint, enamel, ink and permanent marker from bathroom partitions, aluminum siding, desks, road signs, wall tile, bus stops, billboards, lockers, and more. Multi-Purpose Scrubbing Wipes remove grease, adhesives, ink, paint, lubricants, wax and more from hands and non-porous surfaces such as tools and equipment/machinery. Contains natural oils and an emollient that are safe on hands and skin, and will not cause drying. Stainless Steel Cleaner Wipes remove grime, fingerprints and smudges, and helps to restore stainless steel surfaces, leaving behind a clear, protective coating that shines and preserves from water marks and corrosion. Facility Wipes clean and deodorize without damaging surfaces. Wipes are pre-moistened with a special light dose, quat-based formula that makes them ideal for use in gyms, athletic centers, healthcare facilities and more. Cleaning Wipes are available in canisters and center-pull refills.