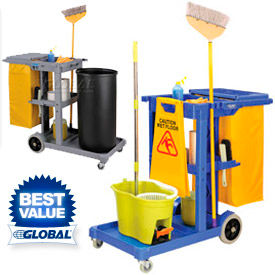 Global™ Janitorial Carts
Global™ Janitorial Carts Support Convenient Cleaning Tool Storage and Maintenance For Janitorial Applications, Cleaning Companies, and more.

These carts feature 3 sturdy shelves, mop and broom holders, collection bag, and more. Our high-density plastic janitorial carts hold everything, are easy-to-clean and withstand constant heavy use. Rugged 25 gallon vinyl bag permits easy emptying and attaches securely to cart; Hinged Lid covers vinyl bag to hide waste or laundry collection. Large rear wheels and swivel front casters allow easy maneuverability, even in tight areas. These utility carts are fully featured to save time and effort. Janitor carts measure 48-1/2"L x 20"W x 39"H. Available in Blue, Black or Gray.
Wringer bucket and supplies sold separately.