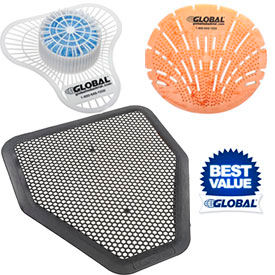 Global Industrial™ Bathroom Odor Control
Global Industrial™ Bathroom Odor Control Products Help Deodorize and Keep Restrooms Clean.

Non-Para Extra Strength Urinal Screens protect urinals from debris, while the non-para block cleans and deodorizes. Non-para blocks are water soluble and 100% biodegradable. Urinal Screens are made with a copolymer that contains organic deodorizing compounds that are stronger than traditional vinyl urinal screens, and features an anti-splash texture to help prevent splash back and cross contamination. Non-Para Toilet Bowl Rim Hangers are specially designed to prevent staining of toilet bowls, while cleaning and deodorizing with every flush. Deodorizing Urinal and Toilet Mats neutralize odors by catching and quickly absorbing unwanted splashes and drips, protecting floors from stains, discoloration and uric acid damage.