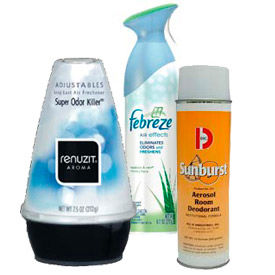 Hand Held Odor Control
Odor Control Products Are Used For A Wide Variety Of Commercial, Industrial Or Institutional Maintenance And Sanitation Applications.

Odor Control Products are made for long lasting effectiveness and dependability. Various brands offer a wide variety of Aerosol, Concentrate, Gel, Granular, Liquid, Powder, Oil, Hang Tag or Pad type products in various formulas and scents to meet particular commercial, industrial or institutional cleaning or maintenance need or application, including air, fabric or carpet fresheners, pet, smoke or body odor controls, general disinfectants and more. Available in various quantities, sizes and package quantities.