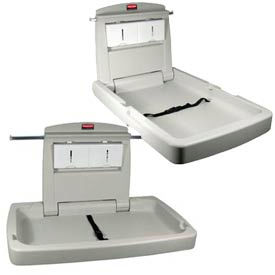 Rubbermaid® Baby Changing Stations
Rubbermaid® Baby Changing Stations Are Used For Providing Diaper Changing Capabilities In Public Restrooms.

Rubbermaid® Baby Changing Stations are made of plastic for long lasting durability with an ergonomic design to provide convenient, one-handed opening. Manufactured with antimicrobial agent inhibiting the growth of odor/stain-causing bacteria and help reduce cross-contamination. Two built-in hooks and shelf provide access to diaper bag, purse and supplies. Smooth, crevice free design with adjustable safety belt and built-in liner dispenser. Includes mounting kit. Meets all applicable ASTM, ADA, FDA and EN global safety regulations and standards. Available types are Vertical and Horizontal Color is Gray Sizes vary.