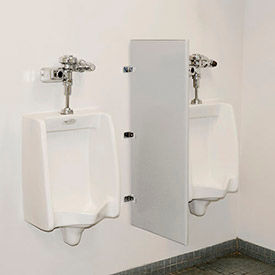 Metpar Steel Wall Mounted Urinal Screens
Steel Wall Mounted Urinal Screens Help Create Privacy Between Urinals In Public Restrooms.

Metpar steel wall mounted urinal screens provide privacy partitions between urinals. Privacy partitions are 1" thick and made using powder coated steel that is formed and cemented under pressure to a double faced honeycomb paper core. Most models include chrome plated zamac mounting brackets for wall mount installation. Dimensions vary per model.