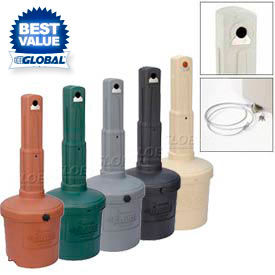 Global Industrial™ Outdoor Ashtrays
Global Industrial™ Outdoor Ashtrays Provide Cigarette Butt Disposal For A Variety Of Facilities.

Global Industrial™ outdoor ashtrays provide self-extinguishing technology to hold up to 14,000 Butts. Global Industrial™ Outdoor Ashtrays have an exclusive stainless steel ash plate to provide lasting durability in harsh outdoor climates. Outdoor ashtrays have safety and convenience to reduce fire risk and maintain clean facilities. Interlocking flame retardant polyethylene housing keeps out rain and airflow to extinguish butts and fight odor. Broader neck design adds strength overall. Exclusive stainless steel ash plate keeps urn looking fresh and clean. Restricted opening keeps out non-cigarette waste. Tie-down eyes (sold separately) secure receptacle from theft and wind. Choose between 1-1/2 gallon or 5 gallon cigarette receptacles. Available colors are Black, Beige, Gray, Green and Terracotta.