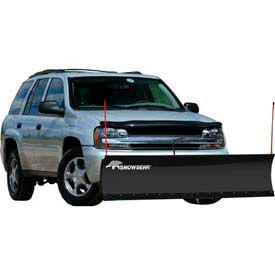 Truck & UTV Snow Plows
Truck and UTV Snow Plows Remove Snow at an Advanced Rate of Speed Much Faster Than Standard Snow Blowers.

Truck and UTV Snow Plows are built to traverse stone, paver bricks, gravel, turf, sidewalk cracks, and more. These heavy duty vehicles are perfect for pushing through large laneways, driveways, and small business parking lots. Available Blade Types are Rounded Blade Edge. which clear out snow on hard surfaces with more efficiency than standard sharp blades that potentially strike rugged surfaces. Most models include universal mounting brackets to fit most trucks, full size SUVs and UTVs. Each plow is constructed of durable steel with a black powder coat finish. Blade dimensions and additional specifications vary per style.