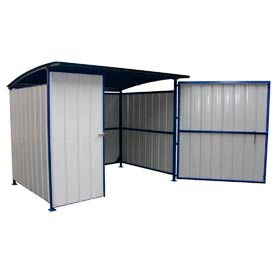 Steel Storage Buildings
Steel Storage Buildings Are Available In Varying Styles For Multiple Applications.

These outdoor storage shelters provide storage space for equipment, supplies, bikes and more. Sheds are made of durable steel for maximum protection and strength. 18-gauge steel roof is contoured for water drainage. 28-gauge steel siding for added protection. Welded steel frame is powder-coated blue. Includes lag-down plates for secure installation. Shed measures 10 ft wide x 8 ft deep x 9 ft high overall. Storage Building with Doors secures valuable equipment and supplies. Includes a 72 W x 83 H door and one 36 W x 83 H door. Doors include a door latch. Steel Smokers Shelter includes a 42 W clear front panel to protect people from wind and the elements. Provides a convenient smoker's shelter or bus stop. Includes a wooden lean-back bend rail for user comfort. Shelter with Steel Bike Rack allows storage of bicycles. Usable bike rack opening is 8.5 ft wide. Features 15 bikes slots, accommodates 7 to 15 bikes depending on size. Easy assembly.