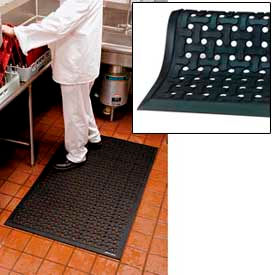 Comfort Flow™ Mats
Comfort Flow™ Mats Are Used For Food Preparation Areas, Machine Shops And Heavy Industrial Applications.

Mats are made with 100% high-density closed-cell Nitrile cushion for anti-fatigue and anti-static properties. Nitrile cushion is oil and grease proof. Mats are anti-microbial treated for guarding against odors. Beveled edges for safety. Drain holes allow liquids to flow through. Welding safe. Certified slip-resistant. Choose between 3/8" and 4/9" thickness. Sizes vary by model. NFSI certified.

M+A Matting (formerly Andersen mats) can have a +/- 3% dimensional variance due to the manufacturing process.