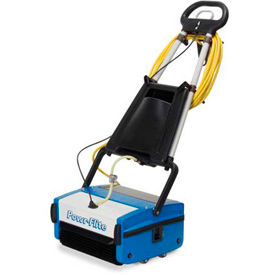 Powr-Flite® Multiwash Micro-Automatic Scrubber
Powr-Flite® 14" Multiwash Micro-Automatic Scrubber Is Perfect For Use In Retail Stores, Restaurants and Food Preparation Areas.

Automatic scrubber gives outstanding results in a single pass on most types of hard floor coverings leaving wood, VCT, studded rubber, linoleum, marble, granite, stone, quarry tiles, ceramic floors and non-slip safety floors ready to walk on in minutes. This all in one machine can also be used on soft floor coverings including woven and non-woven short pile carpet and carpet tiles. Offers quiet, high quality cleaning performance, versatility, ease of use and durability. This machine will wash, mop, scrub and dry in a single pass on virtually every kind of floor even escalators and entrance matting.