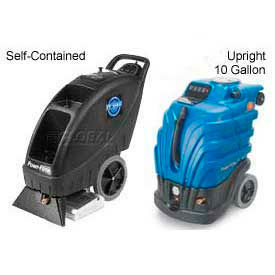 Powr-Flite® Carpet Extractor
These Carpet Extractors Clean Everything From Delicate Drapes And Upholstery To Deep, Embedded Dirt In Carpets And Rugs.
10 Gallon Upright Carpet Extractors
feature dual 2-stage vac motors to provide excellent solution recovery, allowing carpets to dry faster. Large stair climbing wheels get you up and down stairs with ease.
Model 442191
feature Perfect Heat technology. These motors produce enormous amounts of heat. Perfect Heat technology captures this heat and uses it to heat the water used to clean the carpets.
Model 442192
features 1750 watt electric heat for extra cleaning ability. Hot water adds cleaning power by dissolving soil and actually reduces the levels of biological contamination in the carpeting.
9 Gallon Self-Contained Carpet Extractor
is made with a compact, heavy duty polyethylene body for easy transport and storage. This carpet cleaner features a see-though recovery tank lid and fingertip controls for easy access. Floating brush provides superior carpet agitation.
Click here to see full selections of our
Floor Care Machines.