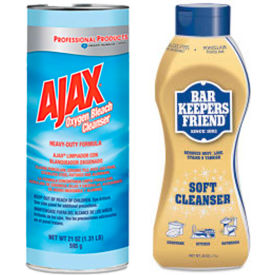 Cleansers
Non-scratch scouring Cleansers use mild abrasives to scrub and eliminate stubborn kitchen and restroom soils that fail to respond to liquid cleaners.


Use on porcelain toilets, sinks and tubs, chrome and stainless steel fixtures, stoves, pots and pans.
Bleach cleansers deodorize and disinfect surfaces.
Available in powder shaker cans or creme soft cleanser bottles.