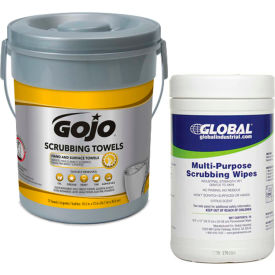 All-Purpose Cleaning Wipes
All-Purpose Cleaning Wipes Provide Quick Convenient Cleaning Solutions For Tools, Surfaces, Hands, and more.

All-Purpose Cleaning Wipes are conveniently presaturated and easily disposable after the job is done. Perforated or individually packaged for one at a time dispensing. Most models feature pre-moistened solutions to cuts through tar, paint, lubricants, ink, adhesives and more. Scrubbing wipes feature a scrubbing side to loosen soil and a smooth side for quick dirt absorption while conditioning hands to prevent dryness and irritation. Available in various sizes and package quantities.