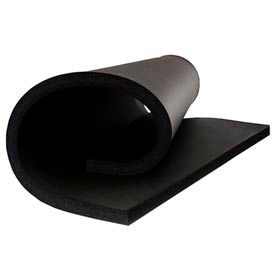 K-Flex Insul-Sheet® Flexible Closed Cell Sheet Insulation
K-Flex Insul-Sheet® Sheet Insulation Delays Heat Gain And Prevents Condensation Or Frost Formation On Cold Equipment, Tanks, Vessels, Ducts And More.

Environmentally-friendly, CFC-free flexible elastomeric thermal insulation. Non-porous, non-fibrous and resists mold growth. EPA registered antimicrobial agent provides additional protection against mold, fungal and bacterial growth. Recommended for applications from -70 to 200°F. Closed cell structure delays flow of moisture vapor and is considered a low transmittance vapor retarder. Skin 2 Sides (S2S) Insulation includes a skinned surface on both sides for superior tear and weather resistance. Pressure Sensitive Adhesive Backed Insulation has a skinned surface on one side and formulated scrim reinforced acrylic adhesive with tear resistant liner on the opposite side. GreenGuard® certified. FM approved. UL 94 recognized. ASTM tested.