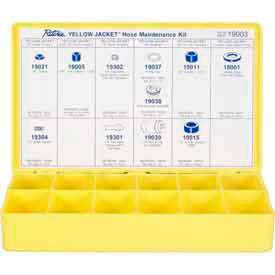 Yellow Jacket® Adapters, Valves & Parts
Yellow Jacket® Adapters, Valves And Parts Serve A Variety Of HVAC Repair And Maintenance Needs.

Yellow Jacket® Adapters, Valves And Parts are available for a variety of applications. Hose Maintenance Kits include a variety of gaskets, valve openers, and SealRight parts in a convenient 12-compartment case. Additional gaskets and o-rings are sold separately. Auto Adapters are basic R-134A service couplers with no control valves. Adapters snap on for instant flow and are available in Low Side and High Side models. Flares feature a one-piece build for easy handling and attachment. Available with male or female ends. Retaining Ring Pliers are made with a six-point broached jaw and push-button convertibility for internal and external use. Spring return ensures easy control. Includes pouch with five pairs of alloy steel replaceable tips and hex wrench. Valve And Core Tools allow Schrader cores to be removed and replaced without losing charge. Compact Ball Valves are UL recognized to 4000 psi.