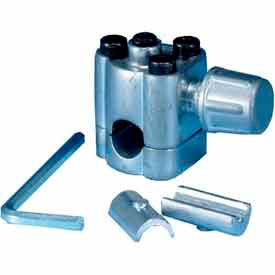 Supco® Bullet® Piercing Valves
Supco® Bullet® Piercing Valves Feature A Permanent-Type Gasket Application.

Bullet® piercing valves are used for round suction lines or uneven tubing. Can be installed on the high side as a permanent valve on the job. Utilizes the same type of gasket found under the head plate of most air conditioning compressors. When installed, the gasket actually compresses the copper tubing .020" creating a permanent, leak-proof seal that will withstand any pressure and temperature for the life of the unit. Valve gasket application provides 50 times more sealing area than competitive O-ring styles. Offers a sealing force of over 180 lbs. per inch. Torque tested with 500 lbs. and pressure tested at 250°F. Precision piercing needle is engineered for concentricity and hardness to insure perfect seating. Corrosion resistant plated finish. Includes hex key wrench.