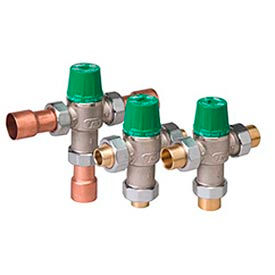 Taco® 5000 Series Mixing Valves
Taco® 5000 Series Mixing Valves Provide Fail-Safe Security In A High Flow, Low Headloss Valve.

Taco® 5000 Series Mixing Valves are made of a nickel plated, cast gunmetal body for long lasting durability. Offers extended mix temperature range of 85-150°F. Provides ultimate performance across multiple mixing and diverting applications. Features shut-off reliability on either hot or cold water supply failure. Used for domestic water, radiant applications, installations with large variations in flow rate and supply conditions, and installations requiring tightly controlled water temperature. Includes a tamper-proof cap. ASSE 1017 approved. Available connection sizes are 1/2", 3/4" and 1". Replacement Internals sold separately.