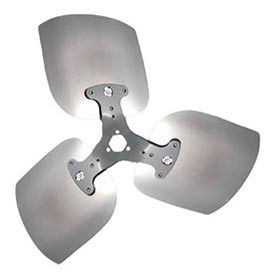 Heavy Duty Condensor Type Propellers
HEAVY DUTY CONDENSOR TYPE PROPELLERS
Condenser Type Propellers Are Used For Air Conditioning Condensers, Power Roof Ventilators, Heavy Pumps And More.

Can be used with heat exchangers, roof top air conditioners, commercial and industrial equipment, walk-in refrigeration units and general cooling/heating applications. Blades are made of high strength aluminum. Each blade is clearly labeled as to Pitch, Diameter, Rotation and Maximum RPM. Square pressure-type blades are required for most condenser applications. Interchangeable hubs may be attached on either intake or discharge side.