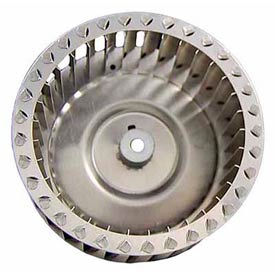 Single Inlet Blower Wheel
Single Inlet Blower Wheels Provide Ergonomic Air Circulation for Condensers, Small Appliances, Furnaces, and more.

These blower wheels are made of galvanized steel for long lasting durability and strength. Single inlet design moves forced air heated, cooled or ambient temperature to specific spot areas. Diameters vary from 3-5/16 in. to 26-1/4 in. Widths vary from 1 in. to 21-3/16 in. Rotations are Clockwise, Counterclockwise and Both. RPMs and overall specifications vary per model. Color finish is Silver. Package quantity is 1.