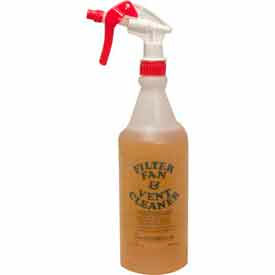 Filter Fan and Vent Cleaner
Filter Fan And Vent Cleaners Are Designed For Heavy-Duty Cleaning Of Vent Surfaces, Electronic Cells, Filters, Fan Blades and more.

Filter Fan and Vent Cleaners are biodegradable, non-toxic and non-corrosive for safe, effective use on a wide range of HVAC equipment. Removes hard-to-clean buildup of particulates and films including oil, grease, and tar deposits. Available styles include Filter Spray and Electrostatic Air Filter Cleaner.. Capacities are 16 ounce and 32 ounce. Additional specifications vary per model.