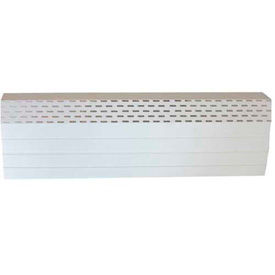 Plastic Baseboard Covers
Replacement Plastic Baseboard Covers are Ideal for Hydronic Installations in Various Residential and Light Commercial Applications.

NeatHeat™ Replacement Plastic Baseboard Covers easily snap-on over existing hydronic baseboard heaters and require no special tools. NeatHeat™ will not rust, dent, chip and gives the existing unit a more visually pleasing modern appearance. Covers come in High Luster white finish. Rugged, heavy duty front panel can easily be retrofitted to existing baseboard heaters. NeatHeat™ can be installed either over existing front covers and/or dampers that are already installed or in place of them and can be easily cut to size. NeatHeat™ accessories include End Caps (right side closed, left side closed), Inside Corner and Splice Plate.