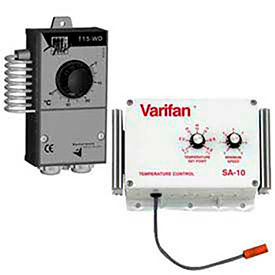 Thermostats And Controllers
Thermostats and Controllers Operate Fans, Heaters, and Other Electrical Devices Requiring Automated Control.

These units feature a water and dust resistant high impact plastic housing. Fire resistant for trouble free operation. Operating temperature range of 32 to 104°F. CSA approved.

Variable Speed Controllers manually control 1 group of variable speed fans. Offers lightning protection using a PVC non-corrosive enclosure. Controls temperature set point and minimum speed. Includes radio wave interference filter. Offers a temperature control range of 41 to 96°F. 2 Year Limited Warranty.