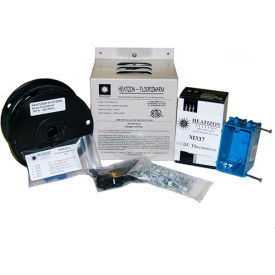 Heatizone Floorizwarm Heating Kit
Heatizone Floorizwarm Heating Kits Provide Economical Floor Heating For Bathrooms, Kitchens, Foyers, and Other Living Spaces.

Heatizone Floorizwarm Heating Kits offer complete and comfortable heat for spaces with hard surface flooring. These heating kits are perfect for rooms and spaces in the process of remodeling. Available Sq. Ft. Coverage ranges from 15 – 110. Each model is listed/certified by ETL to UL and CSA standards and features a system that is Low Voltage approved for wet locations. Most models include an M337 programmable floor sensing thermostat, Transformer/Power Unit, Control Unit, and more. Additional specifications vary per model.