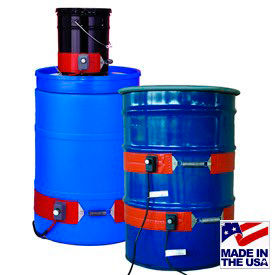 Steel & Silicone Rubber Drum & Pail Heaters
Steel and Silicone Rubber Drum and Pail Heaters are an Excellent Solution for Steel, Plastic, or Poly Drums in Ordinary Locations.

Steel and Silicone rubber drum and pail headers are designed to heat regulate ideal temperatures for heavy duty drum containers. Steel drum heaters feature spring tension latch to keep heat contained for fast and efficient temperature-controlled heating or melting a variety of greases fats, and similar oils. Most Silicone Rubber Drum and Pail Heaters are designed with two extra-thick layers of 20 mil fiberglass reinforced silicone rubber for excellent strength, durability, and flexibility. Select heaters suitable for Metal and Plastic Drums are uniformly placed to maximize heat distribution, and feature a patented 360° grounded, multi-stranded heating elements that meet NEC 427.23. Most moisture and chemical resistant heaters include an adjustable thermostat control (displays in °F and °C), spring closure that can be expanded to 3", and a 6' L power cord. Gallon capacities are 5, 15, 30, and 55. 120V Silicon heater models include a standard 3-prong NEMA 5-15 plug or NEMA 5-20 plug ; 240V silicon heater model comes with bare wire connections. Note: Models with thermostat control maintain 3 preset temperatures (High, Medium, Low). Additional specifications vary per model.