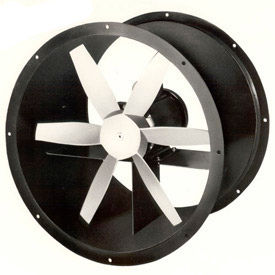 Tube Axial Direct Drive Duct Fan
Direct Drive Tube Axial Fans Are Used For Duct Applications In Mills, Mines, Foundries, Factories And More.

Tube axial fans remove fumes, dust, smoke or steam from poorly ventilated areas. Drum housing is made of heavy gauge all welded steel. Fan blades are made of non-sparking cast aluminum. Drum features angle iron flanges welded on each end. Angle flanges are pre-drilled with eight 7/16" diameter holes around the bolt circle for easy mounting. Axial exhaust fans feature totally enclosed fan cooled motor.