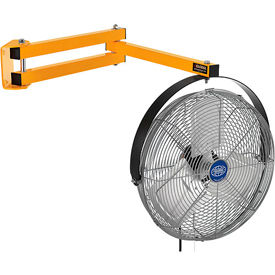 Single & Double Arm Dock Fans
Single & Double Arm Dock Fans Help Cool Hard-to-Reach Loading and Unloading Areas.

Loading Dock Fans provide cooling and ventilating for loading docks, shipping areas, warehouses, and a variety of other industrial applications. Double and Triple Arm types. Durable hinged twin-strut steel arm helps prevent sagging, extends up to 60" and folds compactly. Fan diameters range from 16" to 24". Adjustable friction pivot maintains position. Other dimensions and specifications vary. Meets OSHA requirements.