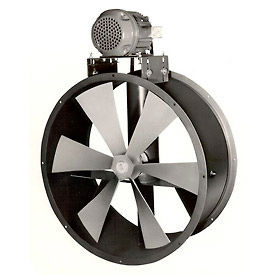 Explosion Proof Tube Axial Belt Drive Duct Fan For Dry Environment
These Duct Fans Feature An Explosion Proof Motor That's Used For Extreme Hazardous Environments.

Provide positive elimination of smoke, fumes and vapors through duct work. Great for spray paint booths and other hazardous locations. These exhaust fans can be used in dry environments with temperatures less than 180°F. Fan blades are made of non-sparking cast aluminum. Axial fans feature an explosion proof motor. Housing is made of heavy gauge steel with angle iron flanges welded around the diameter for superior strength. Features 2 sealed industrial grade ball bearings mounted in cast aluminum, one-piece enclosed housing for long life. Angle iron flanges are pre-drilled with eight 7/16" diameter holes around the bolt circle for easy mounting. Drum housing features an air tight cylinder to protect belts, sheaves and bearings from contaminated air. Adjustable motor base provides proper belt tension. Cast steel and turned steel sheaves.