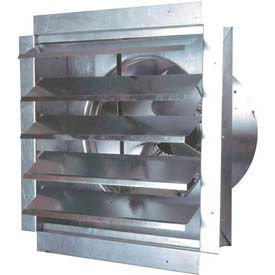 MaxxAir™ Heavy Duty Exhaust Fans With Shutters
MaxxAir™ Heavy Duty Exhaust Fans With Shutters Provide Efficient Ventilation For Commercial and Industrial Applications.

These exhaust fans with shutters are solidly manufactured with 20-gauge galvanized steel housings for long lasting durability, rust-resistance and dependability. Fans are powered with PSC energy efficient thermally protected motors. Flange has pre-drilled holes to facilitate easy installation. Flange edges are rolled for protection during installation. 4-blade fan assembly is totally enclosed for protection against damage from use or outside objects and for OSHA compliance. Integrated, precision-formed exterior shutters open and close automatically and are draft-free. Removable interior OSHA compliant grille. Available blade diameters are 14, 18, 24, 30 and 36 inches. Available with 1400, 3000, 4100, 5500 and 9000 CFM. One Year Limited Warranty. Dimensions vary per model.