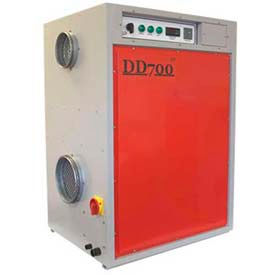 Desiccant Dryer Dehumidifiers
Desiccant Dryer Dehumidifiers Eliminate High Level Humidity For Commercial or Industrial Manufacturing, Packaging, or Storage Applications.

These dehumidifiers are designed to reduce humidity levels to prevent corrosion, mold growth, and condensation in the manufacturing, packaging, or storing of hygroscopic products. Some models include smart controls allowing you to set minimum and maximum humidity levels to prevent over drying. Optional features include auto/manual mode selection, electronic controls, low temperature operation, variable fan speeds, and more. Units are made of steel or stainless steel ensuring years of reliable service. Pints per day ranges from 12.1 to 562. Voltages are 110, 115, 220, and 460. Dimensions vary per model.