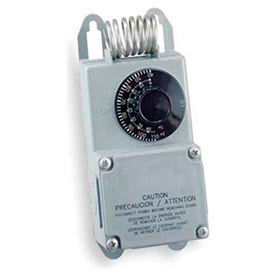 Watertight Temperature Controllers
Watertight Temperature Controllers Are Designed for Multiple Applications Including Industrial, Commercial, and HVAC Environments.

These controllers are made of high quality materials for durability and corrosion resistance. Units detect and regulate temperature change for heating and cooling applications. Heavy duty, weather resistant enclosure protects against water spray, humidity, airborne contaminates, and other corrosive conditions. High visibility display and controls allow convenient temperature set points for user ease. Some units include an ergonomic plug-in installation for efficient and portable temperature control. Controllers are available in various capillary and lead wire lengths ranging from 9.8" to 10' as well as coiled capillary. Bulb sizes range from 2 to 4-1/16". Types are Digital Electronic and Mechanical. Switch actions are SPDT, 2-SPDT, and 4-SPDT. Stages are Single, 2, and Multi Stage. Voltage ranges from 24 to 600/240/208/120/24. Temperature ranges from -40 to 120°F to -40 to 212°F. UL listed. Dimensions vary per model.