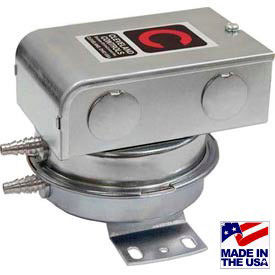 Pressure Sensing Switches & Probes
Pressure Sensing Switches & Probes Are Used For HVAC Energy Management and DDC Applications.

Pressure Sensing Switches & Probes kits have all hardware necessary to install and apply. Includes Individual Carton with Label Product Instruction Manual, Field Adjustable NS2-0000-01 Switch, Black Set Point Adjustment Screw, Hexagon Adjusting Wrench, Color-Coded Set Point Range Springs, Half Strap Mounting Bracket, Angle Mounting Bracket, Mounting Screw for Optional Brackets, #6 x 3/8" Air Switch Mounting Screws and Pairs of Color-Coded Orifices (Green, Gray, Red, Blue). SPDT contract arrangement or SPST manual reset. Connections are 2 or 3 Screw-type terminals with cupwashers, Standard quick-connect terminals or Male quick-connect terminals. Max operating temperatures are 0.5 and 1.