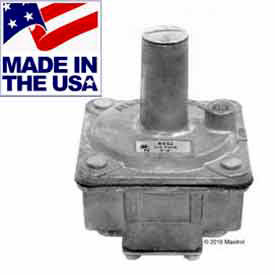 Maxitrol RV Series Gas Regulators
Maxitrol RV Series Gas Regulators Are Used For High Capacity At Low Inlet Pressure Applications.

Maxitrol RV Series Gas Regulators are solidly made for long lasting durability and dependability. Rubber seat, poppet type regular is designed primarily for main burner and pilot load applications where precise control of tiny flows is essential for operating equipment. Straight-thru-flow design meets high capacity requirements at low inlet pressures. Suitable for natural, manufactured, mixed gases, liquefied petroleum gases and LP gas-air mixture piping systems. Available for 1/4, 3/8, 1/2, 3/4, 1, 1-1/4, 1-1/2, 2-1/2 and 3 inch pipe sizes with 65 to 17000 cubic feet per hour capacities.