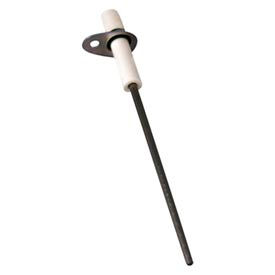 Packard® Flame Sensor For Hot Surface Ignition Systems
Packard® Flame Sensors Enable Optimized Flame Sense Current And Are Essential For The Efficient Operation Of Commercial And Industrial Hot Surface Ignition (HSI) Systems.

Packard® Flame Sensors for Hot Surface Ignition Systems utilize teflon-insulated lead wire rated up to 250°C (482°F) as the mechanism by which the system senses burning flame. They consist of a single rod and can be mounted on any surface next to the flame being sensed. The rod connects to a small plated steel mounting bracket with single-screw installation. At a weight of 1lb and a 3-inch probe length, the sensor can be installed in tight areas for use in a wide variety of commercial and industrial applications. The Packard® Flame Sensor has a female connection with a standard size of 1/4". Manufacturers use machines equipped with Packard® HSI Flame Sensors every day to efficiently produce an adjustable level of surface heat.