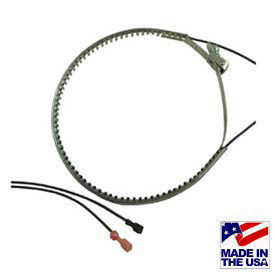 Packard® Crankcase Heaters
Packard® Crankcase Heaters Are Used For Compressors To Prevent Refrigerant Migration And Mixing With Crankcase Oil And To Prevent Condensation Of Refrigerants In The Crankcase Of A Compressor.

Crankcase heaters are made with a corrosion-resistant exterior for lasting durability. Highly efficient heat transmission and low wattage provide nominal power consumption. High-temperature silicone rubber element and VW-1 insolated lead wires rated for 150°C (302°F). Voltages through 600 VAC. Wattage for each model matches compressor requirements. Completely moisture-proof. Quick and easy installation. UL recognized.