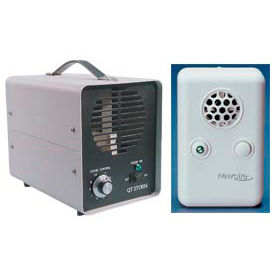 Queenaire Ozone Generators
Queenaire Commercial Grade Ozone Generators Safely Eliminate Smoke, Food, Mildew and Unwanted Odors While Reducing Airborne Particles Such As Dust and Mold Spores.

Ozone air purifiers include an anti-microbial filter to reduce bacteria and mold particles in the air. All models; except Plug-in model, offer 110 or 120V operation and aluminum housing with a gray powder coat finish. Plug-In Model is made with off-white plastic housing with titanium electrode assembly. Available Coverage range is from 500 – 20,000 sq.ft. depending on the model. Generators feature a 2 or 5 Year Limited Warranty depending on the model. Dimensions and additional specifications vary per model.