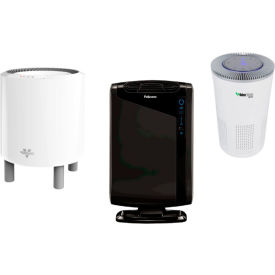 Residential HEPA Air Purifiers
Residential HEPA Air Purifiers Accommodate Indoor Settings Such as Residential, Hospitality, and more.

Residential HEPA air purifiers are designed to reduce airborne contaminants including dust, pollen, pet dander, mold spores, and more. Compact design allows ergonomic transport and reduces footprint for storage ease. 4 Stage Purifiers are designed to capture more particulates and automatically adjust fan speeds to maintain purified air. Filtration types are 4 Stage Purification System, 4-Stage Hospital Type Filtration, 5 Stage HEPA, HEPA, HEPA/Carbon, HEPA/UV, and more. Available Sq. Ft. coverage ranges from 100 to 600 sq. ft. Colors and dimensions vary per model.