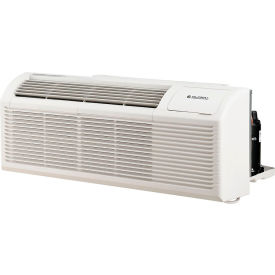 Packaged Terminal Air Conditioners with Heat Pump
Packaged Terminal Air Conditioners With Heat Pump Provide Dual Heating and Cooling Functionality For Commercial, Residential, Hospitality, and Indoor Industrial Environments.

These air conditioners with heat pump offer optimal climate control for areas in need of sufficient temperature adjustability. Dual functionality features heating and cooling capabilities for energy efficiency and application versatility. Select units have a restart feature that automatically resumes operation at previous setting once power is restored. Sound reduction package minimizes resonance levels for quiet operation. Protective fin coating offers corrosion resistance and lasting durability. Cooling square feet ranges from 200 to 900. BTU cooling ranges from 7,000 to 15,000. BTU heating ranges from 6,000 to 17,000. Volts are 208/230 and 265. EER ranges from 9.6 to 13.3. Select units are UL listed. Additional specifications vary per model.