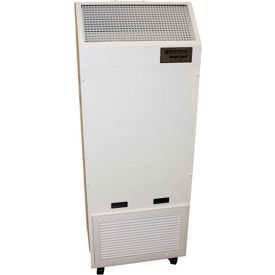 Commercial Grade HEPA Air Purifiers
Commercial Grade HEPA Air Purifiers Are Suitable For Waiting Rooms, Clinics, and Emergency Hospital Room In Need of Consistent Air Recirculating.

Commercial Grade HEPA Air Purifiers provide air filtration and ventilation ideal for isolation room/environments where infectious diseases may be present. Most units connect to compatible ducting at either the top collar for partial exhaust or the flanged collar for total exhaust. Versatile features allow for functionality as a recirculating unit, negative pressure unit, or as a split system. Lake Air LA2-RC1-HUV HEPA + UVGI Air Purifier features UVGI chamber, which effectively eliminates potential bacteria deposits from filtration areas. Self Contained HEPA Filtration Systems meets OSHA and CDC TB guidelines. Compact design allows for convenient and portable storage. Welded steel design with corrosion resistant polyurethane finish ensures lasting durability and endurance. Available Drive Types are Direct Drive. Voltage range is from 115 – 230 depending on the model. CFM range, decibel output, and additional specifications vary per model.