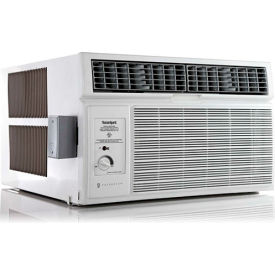 Hazardous Location Air Conditioners
Hazardous Location Air Conditioners Provide Cooling Comfort in Harsh Conditions Including Laboratories, Storage Areas, Control Rooms, and more.
These air conditioners are designed to cool areas where flammable liquids or gases are handled and stored within enclosed containers or systems. Units include a sleeve that may be installed in a window or through a wall. Cooling square foot options are
700, 1,000, and 1,400.
BTU cooling ranges from
14,500 to 24,000.
Voltages are
208/230 and 220/240.
Energy efficiency ratings are
8.8, 9.0, and 9.7.Features:
Hermetically sealed reciprocating compressor is cooled during the refrigeration cycle, which allows the unit to tolerate higher outdoor temperatures up to 130°F
Environmentally sealed on/off switch and gold plated contacts in thermostat for corrosion resistance
Solid-state control relays for compressor and fan operation
Larger, commercial grade, enclosed fan motor with hermetically sealed overload for arc-free operation. Totally enclosed to assure efficient operation under adverse electrical conditions
22-gauge, G60 steel air conditioner cabinet is powder coated for corrosion protection and to withstand years of hard use
Coils coated for corrosion resistance
Diamonblue Advanced Corrosion Protection® on the outdoor coil protects the coil against deterioration and extends the life of the unit especially in coastal or corrosive environments.