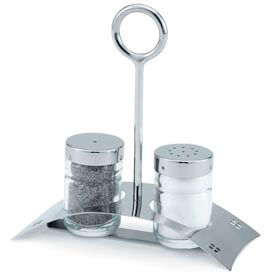 Salt And Pepper Shakers
"Salt And Pepper Shakers And Racks Are Widely Used Tableware Items For Restaurants, Cafes, Diners, Cafeterias And Other Foodservice Applications.

Salt And Pepper Shakers And Racks are made of acrylic, wood, glass, porcelain or stainless steel for long lasting use, durability and dependability. Various recognized brands offer a wide selection of traditional or contemporary style shakers for use in restaurants, cafés, diners and other foodservice environments. Wire frame design Racks come with Round or Triangular tops and Black or Chrome finish. Ceramic or stainless steel Sugar Packet Holders also available. Features a variety of configurations for various table settings. Dimensions and package quantities vary per model.

"