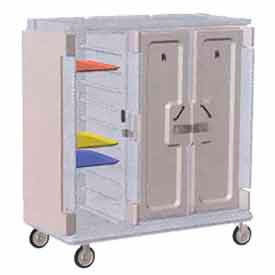 Health Care - Meal Delivery Carts
Health Care Meal Delivery Carts Are Used For Keeping Meals Hot During Delivery In Hospitals And Other Health Care Institutions.

Health Care Meal Delivery Carts have a one-piece, double-wall polyethylene construction for long lasting durability and strength. Great for transporting meal trays from kitchens to patient rooms for quick and easy service. Wheels make movement reliable and smooth. Models are sturdy and easy to clean for confident use. Choose from a wide variety of styles for increased versatility. Available in Granite Gray, Granite Green, Granite Sand, Gray and Slate Blue. Dimensions and capacities vary per model.