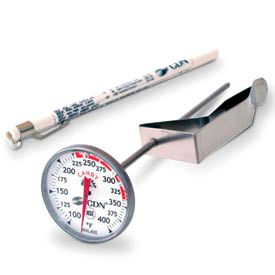 Candy & Deep Fry Thermometers
Candy And Deep Fry Thermometers Are Used For Monitoring Temperatures For Frying Media, Chocolate, Caramels And More.

Candy And Deep Fry Thermometers are used for measuring the temperature of thick, molten cooking ingredients such as chocolates and caramels, as well as keeping track of temperatures for deep fry media for onion rings, French fries and more. Available in Dial Thermometer and Stick Thermometer styles. Density Meters and Salt Testers are also available. Dimensions, temperature ranges and warranties for candy and deep fry thermometers vary per type.