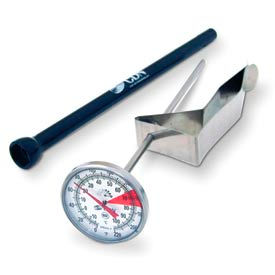 Beverage & Frothing Thermometers
Beverage And Frothing Thermometers Are Used For Steaming Milk Or Preparing Coffee, Espresso And Other Specialty Drinks.

Beverage And Frothing Thermometers feature easily-readable dial with a marked range for the used serving temperature for any hot beverage or frothing specialty drink. Each thermometer is made with a stainless steel clip, allowing thermometer to have secure placement against container wall. Beverage and frothing thermometers are available in several sizes from a variety of brand names. Choose from Fahrenheit or Celsius. NSF® certified.