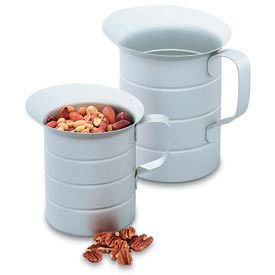 Aluminum Measuring Cups
Aluminum Measures Are Used For No-Spill Foodservice Handling Applications.

Aluminum Measures are made for long lasting use, durability and dependability. Various recognized brands offer wide selection of Dry or Liquid measures used for no-spill pouring and measuring applications. Handles provide easy lifting and steady, accurate pouring. Available in 16, 32, 64 and 128 oz. capacities. 4 quart size stainless steel Urn Cup also available.