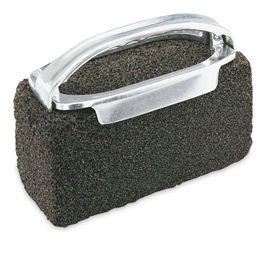 Griddle Stone System
Griddle Stone System Is Used For Safe And Easy Cleaning Of Stoves, Grills And Other Food Preparation Appliances.

Griddle Stone System is made of silicone oxide bricks and aluminum handles for long lasting durability and dependability. Stones do not absorb grease or odor to provide a more sanitary cleaning tool. Will not mar griddle surfaces. Holders are fully adjustable to securely hold grill bricks in place. Grill scraper also available for removing baked-on carbon quickly and easily. Available types include Griddle Brick Holder, Griddle Stone Handle, Grill Brick, Grill Brick Holder, Grill Scraper, and Universal Griddle Stone. Package quantities are 6, 12 and 48. Color finishes are Black and Stainless Steel. Dimensions vary per model.