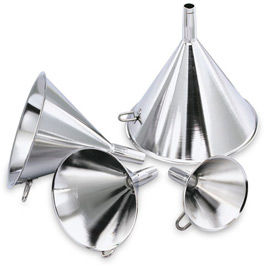 Stainless Steel Funnels
Stainless Steel Funnels Are Used In Kitchens, Labs, Service Facilities And Other Commercial, Light Industrial Or Foodservice Preparation Applications.

Stainless Steel Funnels are made of stainless steel for long lasting durability and dependability. Dent resistant one-piece design provides easy to clean construction for user convenience. Features hanging ring for easy storage and handling. Includes capacity markings for easier selection. Available diameters range from 4-1/8 to 11-7/8 inches. Color finish is Stainless Steel. Dimensions and quantities vary per model.