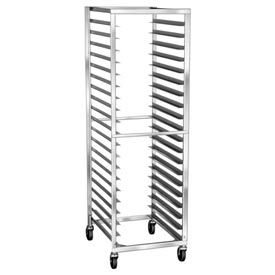 Lakeside® Pan And Tray Racks
Lakeside® Pan And Tray Racks Are Used For Food Service Transport And Storage.

Lakeside® Pan And Tray Racks are made of stainless steel or extruded alloy for long lasting durability. Provide a variety of pan capacities, ledge spacing and in a variety of sizes and styles. Some types used for storing standard plastic food boxes and full size steam table pans. Casters allow easy handling in tight spaces. Types are Box and Steam Table Pan Rack, Cooler Rack, Economy Pan Rack, Extreme Duty, KD Nesting Rack, Standard Pan Rack and Z Nesting Rack. Runner types are Angle, Channel and Universal. Pan capacities are 7, 10, 11, 12, 13, 16, 18, 20, 24, 34, 35, 37, 38 and 41. Available in a wide variety of sizes.