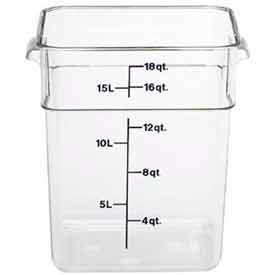 Camwear® Food Containers
Camwear® Food Containers Are Used For Industrial Kitchen Food Storage.

Camwear® Food Containers are available in a variety of styles and sizes. Storage Containers are polycarbonate rectangular containers available in several colors. Capacities range from 1.75 gallons to 22 gallons. Round Containers are polycarbonate cylinders and range from 1 quart to 22 quarts in capacity. Square Containers are made using polypropylene and range in capacity from 2 quarts up to 22 quarts. All containers are dishwasher safe and NSF® certified.